2012 Newsletter
2012 was a pretty quiet year for us, with a couple of memorable highlights. The best bit has to be our visit to the Olympics, followed very closely by a couple of trips to USA.
My first trip to US was a business trip to Silicon Valley. The week was kept busy with a course during the day and a number of arranged events during the evenings. The group consisted of attendees from US, Europe, India and China – it was great to be able to actually meet our colleagues in person. The evening events kept us very busy and included a trip to see 70s band Earth Wind and Fire. It was interesting to see how some Californian vineries have diversified to make themselves music venues – a great way to have value add to their product.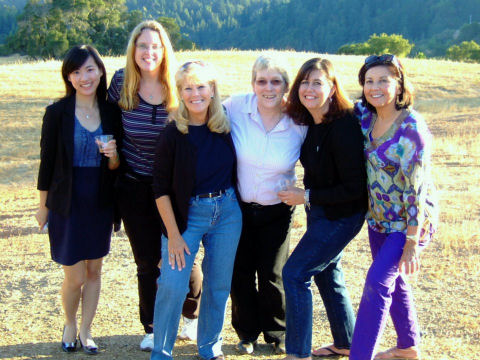 Relaxing before seeing Earth, Wind and Fire
The previous weekend, I made my way from San Jose to the hills above San Francisco to visit my brother and sister-in-law - Amo and Shelley. Their house has the most amazing view over the Bay Area and we spent a very relaxing evening together, eating and catching up. I was really proud of the fact that I managed to complete the hour long drive back to my hotel without looking at my map once!
The second trip was to visit Brian's mother in Philadelphia. It is amazing how well she is doing at 94 years young. We also managed to visit a number of Brian's friends in the Philadelphia area as well as a side trip to Washington DC to visit both of our brothers.
The garden opening went well, but as the summer continued, Mother Nature refused to provide the normal summer weather and instead decreed that the heavens should keep open and make this a very wet British summer. This meant that I had little desire to spend much time in the garden and so it was mostly left to its own devices.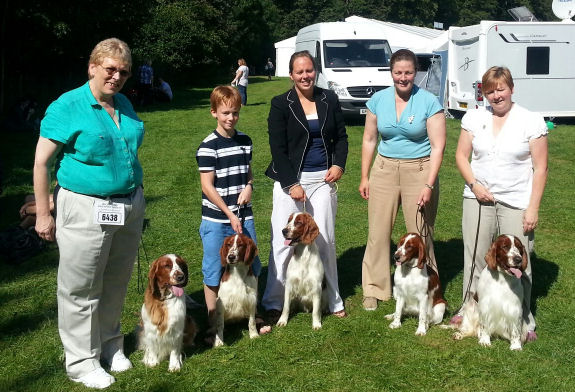 Some of our latest litter at Richmond Championship Show with their parents
Ruby (Mother), Monty, Walter, Pippin, Star (father)
Our canine family continues to do well. In 2012, I showed both Ruby and her daughter, Anya, a little. However I have decided to allow Anya to grow up a little before showing her much, so she will now not be shown for a year or so. Her litter sister, Pippin, had a very good day at South Eastern Welsh Springer Spaniel Club Open show, when she went Best Puppy in Show at just 6 months. The third member of the litter who is shown, Walter, has also qualified for Crufts 2013.
Ruby has been placed consistently at Championship Shows without hitting the major awards. However I have some interesting competition plans for Ruby for next year – I'll let you know what next year if it works out!
Cerys is coping well with the new addition to the family and frequently succumbs to having her ears cleaned by Anya whilst Ruby washes her head. It is amazing how well she has recovered from her back operation almost two years ago. As she races around in the forest, there is absolutely no indication of what happened.
Best wishes to you and yours for 2013.
Finuala & Brian