Links
Gardening and Dogs - Create a Beautiful Garden – Share with your Dogs
Future Events
NGS 2014
Barhi has had to CANCEL our opening this year
News
15 Mar 14 - Isle of Wight Gundog
Anya (Barhi Bright Star) won Post Grad under Samantha Whiting (Annilan).
26 Feb 14 - Southampton
Anya (Barhi Bright Star) won Post Grad under Heather Arrell (Ardaeis).
09 Feb 14 - Portsmouth & Southsea
Anya (Barhi Bright Star) won Grad & BOB under Carol Page (Micklemess).
25 Jan 14 - Newton Abbot
Anya (Barhi Bright Star) won Post Grad & BOB under Cheryl Blackley (Wightroche).
News Archive
Older News items may be found in the News Archive.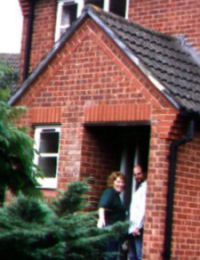 Barhi
Barhi Welsh Springers and Garden are based on the eastern edge of the New Forest, Hampshire, England. The people behind Barhi are Finuala Barnes and her husband Brian Tarnoff, ably assisted by Carol Jackson.
The word Barhi came from a combination of Finuala's surname and the name of one of the Welsh Springers we owned at the time - Rhian. As such, the "h" is silent and it is pronounced "Bar-ree".
Whilst the Welsh Springers are basically members of the family, we do show them and have the occasional litter. Finuala obviously started showing Welsh Springers as a "babe in arms" as she has now been showing them for over twenty five years. She has also been judging the breed for ten years.
The garden was designed to meet the needs of the family and shows how you can have a beautiful garden and dogs. We were very pleased when it was accepted to open to the public under the National Gardens Scheme in 2007.
Each year, we create a newsletter and post it here on the website. We hope you enjoy reading them.