The Extended Family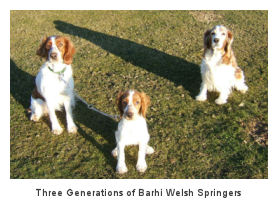 Barhi offspring are all family pets first and foremost, therefore the direction of their major achievements are determined by the family that they live with.
Not all Barhi offspring are listed here, details are only provided with their owners permission.
We have a private email group for owners of Barhi offspring. If you qualify and would like to join, please contact us.
EXTENDED FAMILY
Name
Sex
DoB
Parents
Owners
Major Achievements
Barhi Flaming Star
(Pippin)

Bitch
19 Nov 2011

Sh Ch Nyliram Blazing Star
x
Islemoor Ruby Tuesday with Barhi

Carol Madeley
SEWSSC Pup of the Year - 2012
1 x BPIS (SEWSSC)
Qualified Crufts - 15, 14, 13
Hip Score - 3:3
Eyes - Unaffected - HC & Gonio
Barhi Dark Star
(Walter)

Dog
19 Nov 2011

Sh Ch Nyliram Blazing Star
x
Islemoor Ruby Tuesday with Barhi

Michael & Claire Colebourne
KCGC Puppy Award
Qualified Crufts - 13
Barhi Star of Midnight
(Lola)

Bitch
19 Nov 2011

Sh Ch Nyliram Blazing Star
x
Islemoor Ruby Tuesday with Barhi

Rowlatt Family
Not Shown
Barhi Starman
(Monty)

Dog
19 Nov 2011

Sh Ch Nyliram Blazing Star
x
Islemoor Ruby Tuesday with Barhi

Sinclair Family
Not Shown
Ambika At Last
(Starter)

Bitch
18 Aug 2010

Sh Ch Barhi Crouching Tiger ShCM
x
Hillrobin Brockanfield among Ambika

Diane Monday
Hip Score - 7:8
Eyes - Unaffected - Gonio
Ambika Adenium
(Dylan)

Dog
18 Aug 2010

Sh Ch Barhi Crouching Tiger ShCM
x
Hillrobin Brockanfield among Ambika

John Gameson & Debbie Hunnable
1 x BOB
Qualified Crufts - 12,13,14
Islemoor Beau Sancy
(Beau)

Dog
11 Feb 2009

Sh Ch Barhi Crouching Tiger ShCM
x
Warrage Maide at Islemoor

Ann Lyon
1 x Champ Show 1st
Qualified Crufts - 11,10
1 x Open Show BP
1 x Agility Show 1st (Steeplechase)
Agility Grade 3
KCGC Gold Award
KCGC Silver Award
KCGC Bronze Award
KCGC Puppy Award
Hip Score - 7:5
Eyes - Unaffected - HC and Gonio
Islemoor Pink Orchid
(Rascal)

Bitch
11 Feb 2009

Sh Ch Barhi Crouching Tiger ShCM
x
Warrage Maide at Islemoor

Carol Madeley
2 x Open Show BP
Islemoor De Young
(Benji)

Dog
11 Feb 2009

Sh Ch Barhi Crouching Tiger ShCM
x
Warrage Maide at Islemoor

Neil Peart
Not Shown
Frazer Island
(Fraser)

Dog
25 Jan 2009

Sh Ch Barhi Crouching Tiger ShCM
x
Paganus Gypsy Spirit

Barratt Family
Not Shown
Bouncing Bailey
(Dylan)

Dog
25 Jan 2009

Sh Ch Barhi Crouching Tiger ShCM
x
Paganus Gypsy Spirit

Blackmore Family
Not Shown
Daniel Dandy Boy
(Alfie)

Dog
25 Jan 2009

Sh Ch Barhi Crouching Tiger ShCM
x
Paganus Gypsy Spirit

Trudy and Chantelle Jackson
Not Shown
Torcello Tigger
(Fred)

Dog
15 Apr 2008

Sh Ch Barhi Crouching Tiger ShCM
x
Torcello Tyme

Ann, Nick & Beckie Issott
KCGC Puppy award
Qualified Crufts - 10
Hip Score - 5:5
Eyes - Affected - Gonio
Torcello Tiger Belle
(Rosie)

Bitch
15 Apr 2008

Sh Ch Barhi Crouching Tiger ShCM
x
Torcello Tyme

Hamerton Family
1 x Open Show BP
Qualified Crufts - 10
Ir Sh Ch Moorash Lady Guinnevere
(Lulu)

Bitch
17 Jan 2008

Sh Ch Barhi Crouching Tiger ShCM
x
Moorash Titian Star

Sue & Nigel Shenton
1 x CACIB
7 x Green Star
1 x Res Green Star
2 x Champ Show 1st
1 x Open Show RBoB
Qualified Crufts - 11, 10, 09
KCGC Bronze Award
Hip Score - 4:5
Eyes - Unaffected - HC and Gonio
Moorash Sir Dinadan
(Beemer)

Dog
17 Jan 2008

Sh Ch Barhi Crouching Tiger ShCM
x
Moorash Titian Star

Kellie Johnston
Qualified Crufts - 10, 09
Moorash Sir Ywain
(Ollie)

Dog
17 Jan 2008

Sh Ch Barhi Crouching Tiger ShCM
x
Moorash Titian Star

Jacqui Carney
Not Shown
Barhi Tunes of Glory
(Poppy)

Bitch
18 Nov 2005

Sh Ch Beagmhor An Albannach
x
Barhi Hidden Dragon

Carol Leighton Davies
KCGC Bronze Award
Nickname - "Supermodel"
Hip Score - 5:8
Eyes - Unaffected - HC and Gonio
Not Shown
GONE BUT
NOT FORGOTTEN
Name
Sex
Dates
Parents
Owners
Major Achievements
Barhi Kings Copse
(Copper)
Dog
6 May 1998


to

8 May 2008

Menstonia Medlar in Sumarand
x
Kazval Bon Voyage Via Barhi

Barratt Family
Qualified Crufts - 03, 02
6 x Open Show BOB
Eyes - Unaffected - HC and Gonio