Barhi Welsh Springer Spaniels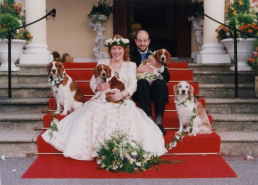 Our Wedding - Aug 1998
Miar, Copper, Delenn & Rhian
Finuala Barnes has owned Welsh Springers since she persuaded her family to acquire one in 1972 and has shown them since 1983. She started judging Welsh Springers in 1997.
The word Barhi came from a combination of Finuala's surname and the name of one of the Welsh Springers we owned at the time - Rhian. As such, the "h" is silent and it is pronounced "Bar-ree".
Our showing activities in 2014 will focus on Anya (Barhi Bright Star), whilst Ruby (Islemoor Ruby Tuesday with Barhi ShCM) will concentrate on Obedience.
Oliver (Sh Ch Barhi Crouching Tiger ShCM) was our first show champion, now sadly passed. He achieved a great deal of success in Championship show stakes classes. including wins at Border Union and LKA in 2009 and Manchester in 2010.
Initially, work commitments did not allow for breeding and so the first dog to carry the Barhi affix was Kazval Bon Voyage via Barhi and she became our foundation bitch. So far, there have been only four Barhi litters. The naming of litters is always a fun thing to do. The first litter were named after places within the New Forest. The second was based on a well known Chinese film, reflecting two of our joint interests. The third litter has continued the film theme, this time based on Scottish films since their father lives there. Our fourth litter are named after films with the word "Star" in the titles to honour their father who is called "Star".
As well as showing, all of our dogs have gained at least their Bronze Good Citizen award and three of them have their Gold. Working on what she learnt in the Good Citizen tests, Ruby is currently competing in KC Good Citizen Stakes classes at Obedience shows. Some have also competed at Gundog working tests, but health and work commitments have not allowed us to focus as much time on this area of work as we would have liked.