Barhi Garden - History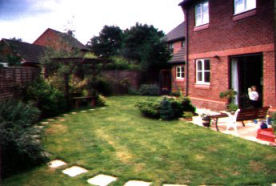 We started with a blank canvas - 1998
When we first moved in, in 1998, the garden was a typical family garden. It was mainly laid to grass with borders around the edges. There was a small patio and a little seat.
As all the books say, we lived with it for a year to see what we wanted to change. I pretty quickly realised that the design didn't meet our needs, and so set about playing with garden design software. Not wanting to rush things, this process went on for a couple of years. Eventually, I had a rough design that I was happy with and so the next thing to do was to work out how to get it done.
Having considered a number of options, I decided to bite the bullet and go with a landscape design company. Whilst not being a cheap option, I realised that it would enable me to have something really special to live with in the years to come.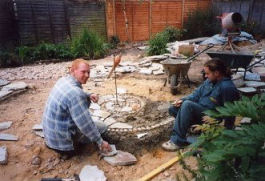 The garden was a building site - Sep 2001
The design process was, eventually, a very rewarding experience. A number of drawings were produced, poured over, flaws highlighted and inspirations applauded until we had a design we were happy with. Eventually in the late summer of 2001, the work began.
For a period of six weeks the garden was a building site. It was traumatic and there were certainly times when one wondered if it would ever look like a garden again. We worked with the landscapers to ensure that at all times we had a safe area for the dogs.
At the very end of the process, the plants arrived. They almost appeared to be an afterthought, although of course they were not. Some considerable time had been taken in choosing the plants ensuring that they were appropriate for the mood to be created in that part of the garden, as well as ensuring that they were in keeping with my, sometimes idiosyncratic, plant preferences.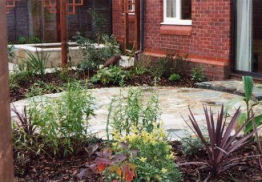 Nearly done - Oct 2001
Obviously, the majority of the plants that were initially planted lacked maturity and the garden still felt very empty, so I decided to invest in some more mature shrubs. These arrived in Spring 2002, and then I finally felt that I had a garden.
Obviously since the initial building process, the garden has matured. A very great number of plants have been added. Some haven't liked our conditions, but the vast majority have.
The large beds have meant that I have been able to explore and develop my interest in plants. More and more I have taken the garden over. Whilst the initial inspiration was a collaborative effort with the designer, this is now very much my garden.