Barhi Garden - Pergola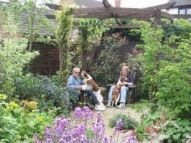 The Pergola - Spring 2003
Now that the plants on it have had time to mature, the pergola creates a shaded hideaway. Even on the hottest days, it is possible to sit under it and steal some moments of solitude.
Although not overly large, we have had up to five people sitting under it and it creates a very convivial environment for entertaining.
In the Spring, the pergola is covered the flowers of the Clematis Armandii, and then later in the year, the roses take over.
The paving under the pergola also represents a nautilus, the chambers are picked out with shaped mortar.
Behind the Pergola is our mini shrubbery and woodland garden. The snowdrops and hellebores make this a very special place in the Spring.