Barhi Garden - The Long Walk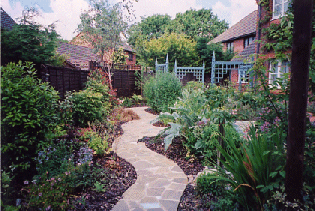 The Long Walk - 2002
To call any part of a small garden, the "Long Walk" is maybe a little overstepping the mark, but the path at the bottom of the garden does take advantage of the longest dimension in the garden and provides some sense of a journey.
The path meanders along taking a relaxed route between the pond garden and the pergola. At one point, there is a slight rise and fall that adds to the feeling of journey, which I jokingly call "my hill".
The path is wider between the pond garden and the patio than it is between the patio and the pergola. This was done to allow easier passage for our gas barbeque between its winter home in the garage and its summer home near the back door. Whilst this change in width is not dramatic and is not always obvious when the plants spill over its edges, it does add an element of perspective.