Barhi Garden - Nurseries and Other Suppliers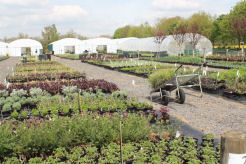 Nurseries
The plants at Barhi have come from a wide range of nurseries. I tend to avoid garden centers and search out nurseries that actually grow the plants themselves.
This way, not only do I get expert advice on the requirements of an individual plant, but also I am supporting local growers, reduce plant miles and have some wonderful days out meeting amazing plantsmen and women.
The RHS Plant Finder and Nursery Finder are invaluable resources when looking for nurseries. However, they do not list every nursery, sometimes just driving past and popping in can still be a great way to find that special plant.
Some of our current favourite nurseries are:
Apple Court, Lymington. Tel - 01590 642130
Bloms, Melchbourne, Beds. Tel - 01234 709099
Garden Secrets Nursery, Lymington. Tel – 07779 084245
Hampshire & Sunnyfields Farmers Markets – various suppliers
Hardy's Cottage Garden Plants, Whitchurch. Tel - 01256 896533
Landford Trees, Landford. Tel - 01794 390808
Marcus Dancer Plants, Fordingbridge. Tel - 01425 652747
Pollie's Daylilies, Sway. Tel - 01590 682577
Spinners, Lymington. Tel - 01590 673347
White Veil Fuschias, Three Legged Cross, Wimbourne. Tel - 01202 813998
Not all of these are open all the time, so if you want to visit, it may be best to phone in advance.
Other Suppliers